We met up with Tampa Bay Devil Rays outfielder Elijah Dukes this afternoon to talk about his many adventures in sperm donating.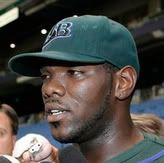 Lizzy: "Elijah, we could begin the interview if you'd kindly get your hands the hell off of me."

Dukes: "Pssh. Whatever, dawg."

Sooze: "It seems yet another young lady has named you the father of her baby - a seventeen-year-old foster child?"

Dukes: "She said she was 18, yo."

Lizzy: "Luckily for you, there will be no legal ramifications since the age of consent in Florida is 16 if the whoopie is made on the love seat of a Foster Home."

Sooze: "How did you react when she told you the news?"


Dukes: "Well, at first I wanted to take a picture of my gat and text it to her, but I threw a Gatorade at that [redacted] instead, dawg."

Lizzy: "Hey, it looks like those anger management classes are really working for you!"

Sooze: "Have you ever considered using condoms?"

Dukes: "[Redacted] that, dawg."

Lizzy: "Considering the price of contraception compared to the cost of child support, maybe you should look into that."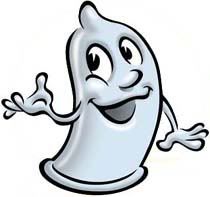 Sooze: "Here, we brought some along for you."

Dukes throws a Gatorade at Sooze

Sooze: "Was that really necessary?"

Lizzy: "Dude. Keep your eyes off of my goods."

Sooze: "Yeah, what the hell? Look here! (points to eyes) Not here! (points to ma'ams)"

Dukes: "I thought I was gonna get some action here, dawg. I'm out."

Sooze: "We look forward to hearing about your next illegitimate child adventure!"

Lizzy: "Don't drink the Haterade!"

[Elijah Dukes Is Such A Bastard] | [] | [What The Hell?]