You'd think with all of those luxurious locks, Magglio Ordonez's melon would always be protected.

Think again.

Maggs was smoked in the side of the head by a Josh Beckett breaking ball in the third inning of their exhibition game on Saturday, sending the Detroit slugger to the hospital.

This nearly sparked a brawl between Detroit and Boston, considering Beckett had already nailed new Tiger Gary Sheffield in the first inning, forcing him from the game to be treated at a hospital as well.

Eric Hinske's grand slam off Justin Verlander highlighted Boston's five-run first inning and perhaps fueled whatever fire there may have been. The reigning Rookie of the Year, who obviously struggled to keep the ball down, was roughed up for six runs on five hits and walked two batters, but didn't actually hit any.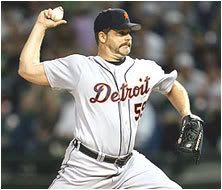 Detroit reliever and avid moustache-sporter, Todd Jones, threw behind new Red Sox outfielder J.D. Drew in the fifth, which finally cleared the benches and bullpens.

Players hung around near home plate, talked a whole lot of smack, and threw about 0 punches.

Jones was then tossed right along with Detroit manager, Jimmy Leyland.

Sox reliever Travis Hughes got in on the action too - hitting Chris Shelton with a pitch in the eighth.

After Detroit's 7-6 loss, Magglio could be seen sitting in the clubhouse with a bandage that covered most of his head, mumbling and groggy, but not drooling. He declined to comment.

We missed you, too.

[Detroit Tigers News]