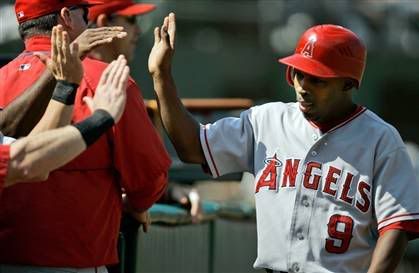 Chone Figgins was injured and left the Los Angeles Angels game against the Arizona Diamondbacks in the fifth inning Thursday, when a Conor Jackson grounder bounced off his hand.

Angels manager Mike Scioscia says he's not worried about it. "It's part of baseball - guys are going to get dinged up. That's why we have a depth chart."

The switch-hitting third baseman batted .267 last season with 9 homers and 62 RBIs, stealing 52 bases.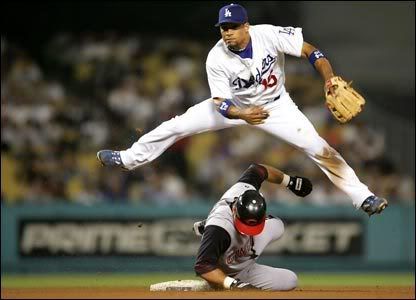 Los Angeles Dodgers shortstop Rafael Furcal injured his left ankle in the very first inning of the Los Angeles Dodgers game against the Baltimore Orioles and was taken to a hospital for X-rays.

Corey Patterson smoked a fly ball to short center, and Furcal and Jason Repko both went for it. After Repko dove for it, Furcal made the catch, leaping over the center fielder. He landed awkwardly, immediately grabbing his ankle, and was carted off the field.

Furcal, a 29-year-old switch-hitter, batted . 300 with 15 homers, 63 RBIs, 37 stolen bases and 113 runs scored for the Dodgers last season.

Repko, a 29-year-old reserve outfielder, also had to leave the game, straining his left hamstring when he dove for a ball in the third. He missed time earlier this spring with a groin injury and was sidelined for 2 1/2 months last season after spraining his left ankle on May 9th.

Update: Figgins is expected to be out at least five weeks with two broken fingers on his throwing hand. Maicer Izturis is expected to fill in at third with Robb Quinlan seeing some time there, as well.

[]