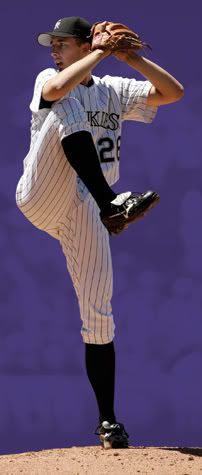 God. You hear the word "scuffle" and think, what a bunch of pansies. Cause you just know that no punches were thrown. No one got pounded on. Retribution was not served.

And that is exactly the case with Colorado Rockies pitcher Jeff Francis and manager Clint Hurdle, who were suspended by the commissioner's office Friday for their involvement in said scuffle with the San Diego Padres this week.

Francis, who has a great symmetric high-leg wind-up, was suspended five regular-season games for intentionally throwing at San Diego's Kevin Kouzmanoff on Tuesday after a warning had been issued earlier in the game. Hurdle was banned for one game for walking toward the mound to shout at Doug Brocail earlier in the game, as the reliever has hit two Colorado batsmen in four days. Both were fined an undisclosed amount.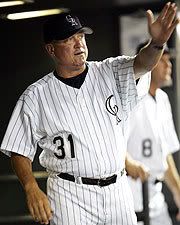 Unless appealed, Francis' suspension is scheduled to begin April 2nd, the Rockies' season opener against the Arizona Diamondbacks. Not a great way to start the season. Hurdle is to serve his suspension the following day.

[]