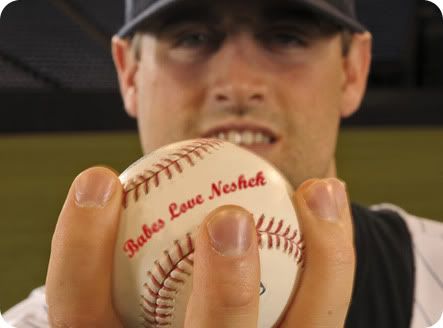 You can imagine how pumped we were when our favorite side-winding hurler,
Pat Neshek
, was awesome enough to do an interview with us.
The Minnesota Twins reliever with the funky delivery
landed on the disabled list back in May of 2008
with a right elbow injury, which ended up being serious enough for Tommy John surgery. After more than a year of rehab, he signed a one-year deal with the team last month and is feeling better than ever.
Not only is he a hell of a pitcher, but he's a really nice guy, too: you might even call him the most fan-friendly player in baseball. Got any sweet hockey cards gathering dust? Then go check out his long-running blog
On the Road With Pat Neshek
, where he writes about big league life and swaps autographs for trading cards.
Enjoy!
Babes Love Baseball: Our first question is one you probably get a lot. Why did you start throwing side arm?
Pat Neshek:
It basically evolved from an injury in high school. I was batting at the plate and got drilled on my forearm. It really lumped up and hurt, especially when I went out to shortstop that next inning. I quickly realized it didn't hurt as bad when I lowered my arm slot to sidearm. Well to make a long story short, I finally was able to pitch after 3 months of playing shortstop, and when I went on the mound that first time everything felt great. But I didn't realize I was throwing a lot lower than before thanks to all the throwing at shortstop. After a couple days trying to change it my college coach thought it looked pretty nasty and told me to work with it. It worked out pretty well.
BLB: What did you do with your free time while you were injured and recovering?
PN:
Well I usually worked out from 8-12:30 in the morning and after that it was a whole lot of nothing. My wife and I spent lots of nights watching all the Twins games. We have a house in Ft. Myers, so there was lots of yard work to do, and we had a garden. As my rehab got closer to the end, I was able to do things like golf, whiffle ball, and basketball (shooting). I also spent a lot of time online with my website. It was a pain to not pitch, but the time off was very relaxing. I got a taste of what it is like to be retired. Haha!
BLB: Have your throwing mechanics changed?
PN:
Not one bit, same everything. People say that is why I got hurt... it's a joke. Nearly 1/6 of pitchers in the big leagues have had the same surgery and they all throw different. My arm only had so many pitches in it, and it went out. I learned a lot and my arm is fresh, new and has many years in it.
BLB: Are you feeling ready for your return to the game?
PN:
Yes, I have faced hitters for the past 2 weeks and everything has gone better than expected. My recovery time is better than I thought as well. I have been throwing around 88-90 mph, and I think this is going to increase the more I am doing baseball drills all day and getting more acquainted on the mound. Right now I am 15 months out from my surgery and I feel like I can do well in the big leagues.
BLB: How do you feel about instant replay, especially after the horrible questionable calls during the playoffs?
PN:
I like how they have it right now.
The call in the playoffs
was tough to watch considering the ump was 10 feet away and looking at the ball. I guess if the Yanks hit the ball I wouldn't be complaining... Even though we got burned on that call, I like the human element.
BLB: What do you think about the new ballpark and playing outside in Minnesota during the spring and fall... and those super humid summer days? Do you think it will affect the way you and the Twins as a whole play?
PN:
I like the new ballpark a bunch, and the amenities inside are top notch. I will really miss the Metrodome due to the fact of having the same playing condition everyday and the way fans go nuts there. It will be a huge hit to our home field advantage. That said, the Twins front office has been great this winter and added some awesome guys that will throw off that difference of moving out of the Dome. It's going to be freezing, and after a couple years I could see Target Field not getting too many fans until it warms up. It would've been nice to add a roof.
BLB: What are your thoughts about stealing signs after that hoopla with Joe Mauer last season?
PN:
It's always been part of the game and it really doesn't bother me. There were a couple times that I didn't care if they had my signs because my slider was on. As long as binoculars or high tech stuff is not involved I'm fine with it.
BLB: Are you going to miss [Mike] Redmond's naked antics in the locker room this year? (or was that all rumor??)
PN:
Redmond was a huge clubhouse presence and he will be greatly missed. He called a lot of my games as a rookie and I trusted everything he said. On the other hand, his naked walks will not be missed... and no this was not a rumor.
BLB: What's up with Ryan the ball boy? Bert [Blyleven] is obsessed with him and so are we! We are so proud of him when he makes a great catch out there.
PN:
Ryno, as we call him, is another great clubhouse presence. He's there everyday in the clubhouse folding clothes and helping out with whatever needs to be done. I don't know how the heck he got the 3rd base line gig but he takes his job very seriously. Johan [Santana] and [Carlos] Silva would help him out in BP and hit him ground balls practicing for those hard hit balls during the game. It worked a little and he is still learning. His favorite thing to do is catch a ball and give it to a good looking girl. He gets really nervous sometimes and it's funny to see his reaction... [Juan] Rincon taught him this.
BLB: Who was your favorite ball player growing up?
PN:
Tony Gwynn and [Kirby] Puckett.
BLB: Being a hometown boy, did you always want to play for the Twins or did you dream of playing somewhere else?
PN:
I just wanted to play in the big leagues for anybody. I never thought it would be for the Twins and it has been a perfect match!
BLB: Have you seen Bat Girl's "Neshek Shuffle"? And if so, what do you think?
PN
: I love that crazy stuff, looks like something I would've created if I was bored.
BLB: What are you looking most forward to this season?
PN
: Just being around baseball again. It's great to know I have most of my stuff back, now I just need to prove to everyone that I'm healthy. I can't wait.
BLB: The Twins have made some pretty exciting moves during the off season. Is there anyone in particular you're looking forward to having on the team?
PN
: I will meet Jim Thome in a couple days and that will be really cool. He's going to be a hall of famer someday down the road and since my time with the Twins we haven't had a presence like that in the clubhouse. I'm excited about all the moves and how well the front office did this off season. I have a feeling this is going to be a great team.
BLB: Did you ever respond to this fan letter and if so, did you oblige? (PS... will you get us those autographs when you're done with this interview? Kidding... sorta.)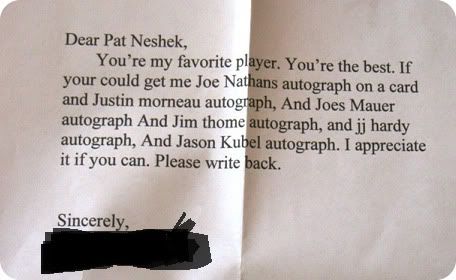 PN:
Yeah I sent him a signed card back, I liked his letter and thought he needed my card for his collection since he was my biggest fan. :)
BLB: That reminds us of that commercial from the 2008 season (below) where you're answering questions from young fans at Park Center Senior High, and all they keep asking you are things about Joe Mauer. You've been in a couple of Twins commercials, including the Ode to Joy one, which was great. How much fun is that, and will you be starring in any more ads in the future?
PN
: The commercials were a lot of fun, but they took hours to finish. I came in at 8am and left at 1pm. The kids in the commercial went to Park Center and they didn't get out of there until 4pm. I liked that commercial a lot. They were thinking about doing another commercial until they decided to do a Park Center one called
The Neshek Shuffle
. I guess they wanted to create a dance kind of like how I pitch... that would've been a mess. The
Ode to Joy
one was fun as well but Boof [Bonser] screwed up about 20 times with his baritone voice and made us wait about 15 extra minutes... I did mine in 3 takes. :) Currently, there are no future commercials with me planned, I'd love to do another one though.