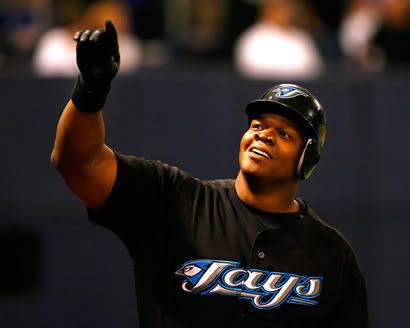 What are the chances that on the same day? Probably like, a bazillion to one... I'm so good at math.
Frank Thomas
hit a three-run shot in the first inning of the
Toronto Blue Jays'
8-5 loss to the
Minnesota Twins
Thursday afternoon, becoming the 21st big leaguer to reach 500 career home runs. The Metrodome responded with a standing ovation for the two-time American League MVP.
Fittingly, Thomas hit his first career homer at the Dome against Gary Wayne while with the
Chicago White Sox
back in 1990.
Things turned a bit sour for the Big Hurt in the ninth however, when he was ejected by plate umpire Mark Wegner after being called out on strikes for the second time in the game. Jays manager John Gibbons came out to argue and was also tossed.

"I'm probably the first to get 500 home runs and get thrown out of the ballgame," Thomas said. "That's something I didn't want to happen, but the moment just got the best of me."
Thomas also tied his season high four RBIs with a two-out double in the third.

Torii Hunter homered twice and Jason Bartlett! also connected for the Twins, who rallied from a 5-1 deficit.

Minnesota starter Carlos Silva (4.15 ERA) recorded his sixth win after giving up 5 runs on 6 hits over seven innings, including Thomas' milestone longball. He struck out five and walked two.

Toronto's A.J. Burnett, pitching for the first time since straining his shoulder on June 12th, gave up five runs on six hits in just four innings, but fanned six batters. He tossed his glove into the stands when he was removed... either as a sweet souvenir or a pissed off gesture. I'm going to go with the latter.

In other exciting news, my Canadian Crusher finally returned to the Twins lineup after missing six games with a bruised lung and went 0-for-3 with a walk and an RBI as designated hitter.

American League





National League

Cardinals @ Mets - postponed