The Chicago White Sox recalled right-hander Mike MacDougal to their struggling bullpen before Friday's Interleague matchup against the Pittsburgh Pirates... which they lost 4-2.

MacDougal was sent down to the AAA Charlotte Knights on June 4th, and pitched four scoreless appearances there. (Impressive!) The Sox are hoping he's finally ready to help out in late inning situations, which they desperately need considering the crap their starters have put out.

The lanky hurler was 1-3 with a 7.13 ERA over 17.2 innings for Chicago this season, and was sent down along with David Aardsma in an attempt to shake up the struggling bullpen.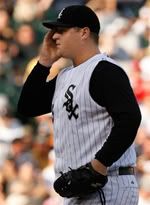 However, the move didn't really do much of anything to help. Closer Bobby Jenks and Boone Logan are the only members of the White Sox bullpen to a have an ERA below 6.00.

Related, the White Sox have designated righty Bret Prinz, who was called up to replace MacDougal, for assignment. He posted an 8.10 ERA in 3.1 innings.

[Chicago Tribune] | []