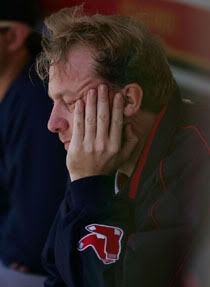 The Boston Red Sox medical team continues to evaluate Curt Schilling's sore shoulder, and expects the veteran to remain out past the first week of July... maybe even through the All-Star break.

Theo Epstein claimed this past Friday that a mid-season rest will lead to a better second half for Schilling.

However, the outspoken 40-year-old ace said, "It's easy to analyze that when you are not in uniform and never been in one."

After an MRI exam and cortisone shot, Schilling landed on the 15-day DL Friday following two straight crappy starts. The move is retroactive to June 19th, one day after he failed to strike anyone out. He is 6-4 with a 4.20 ERA in 15 starts this season.


Left-hander Kason Gabbard will start today in Schilling's place against the Seattle Mariners. Gabbard is 7-2 with a 3.24 ERA in 14 minor league starts with the AAA Pawtucket Sox.

[Sporting News] | [SOX & Dawgs]