My mom was visiting yesterday and we were watching the news together when a short segment on Jason Giambi's recent discussion with commissioner Bud Selig aired.

After learning that the slugger would be suspended if he didn't cooperate with the investigation, she put a different spin on it. "I don't even know who this guy is, but it sounds to me like he's being black-mailed," she said.

Hmm. Interesting point, moms.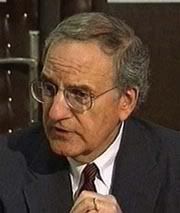 On the 6th of June, Selig told Giambi that he wanted him to meet with MLB's steroid investigation spearhead, former Senate Majority Leader George Mitchell within two weeks and to "cooperate fully" with the probe, which began last year in March.

Selig would then make a disciplinary decision on the New York Yankees DH after he named names "completed his activities" with Mitchell and that Giambi's list of names "level of cooperation" would be taken into account.

The players' association said Giambi, currently on the disabled list with a foot injury, would make his decision after consulting with his lawyer and the union.

[USA Today] | []