Why the hell is Elijah Dukes still playing baseball? Anyone?

Oh, that's right. There's nothing on beating the crap out of your woman and text-messaging her a photo of a handgun in the MLB rulebook.

Not to mention this small detail: threatening to take her children's lives.

"The Devil Rays organization takes these types of allegations very seriously, but at this point it remains a private matter between Elijah and his family. We will continue to monitor the situation and provide ongoing assistance to Elijah."
Update: It seems that Dukes has made everything better by issuing a public apology...
"I would like to apologize to my family, teammates, the fans and the organization for the distraction that this situation has caused," Dukes said in the obviously prepared clarification. "I would like to thank them for standing by me and hope that my family and I can move on and put this behind us."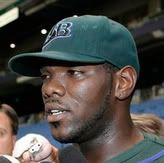 Yes! Let's put this whole threat of murdering one of the four women who has reared not one, but two of my five children, behind us all.

Forgive and forget everyone! Carry on.
[] | [
Rays Index
]