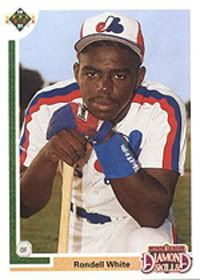 The heat is on. Rondell White's 1991 card dominated the first set of the Rookie Card Playoffs with his seductive eyes and bent knee - a 5-vote victory over runner-up Nomar Garciaparra and his innocent, pubescant face.

Third-place went to the scrappy Chipper Jones while fourth-place was held down by an already-ornery Barry Bonds. Mike Mussina, who recieved only 6 tallies, placed dead last.

Considering Rondell's victory, we thought it appropriate to dub this set the Mustache Round. So, choose your favorite - which can be based on absolutely anything, not just these players' sweet 'staches.

Voting for this set ends at midnight on Sunday and as always, you can vote either here or at SOX & Dawgs with our play-off Co-host, Ian.