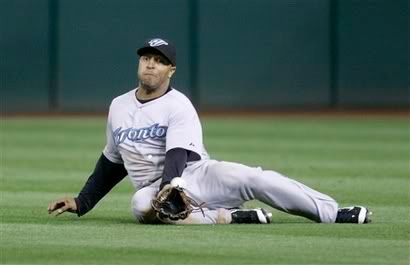 After being called out by a fan, Toronto Blue Jays outfielder Vernon Wells gave the guy something to think about.

During Wednesday's game in Cleveland, a group a fans were busting his balls the entire game, shouting things at Wells like "You suck!" and "You like men!"

These guys totally need some lessons in trash-talking. 'You like men?' C'mon. The art of heckling has no room for politically correct shenanigans.

"One guy was also yelling at me to give him a ball," Wells explained. "He said that Torii Hunter had given him a ball."
Wells thought, 'Big deal, buddy.' So, he decided to be proactive. Between innings he got a brand new ball and wrote a nice little message to the fan. When the Jays took the field the next inning, he tossed it to him.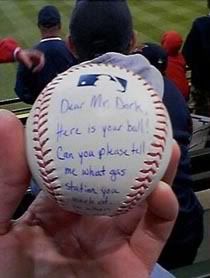 Dear Mr. Dork, Here is your ball! Can you please tell me what gas station you work at so I can come and yell at you when you're working? Please sit down, shut up and enjoy the game. From your favorite centre fielder, Vernon Wells.
Perfect. He even spelled center like a true Canadian.
[Hat tip to ] | [
Toronto Sun
]