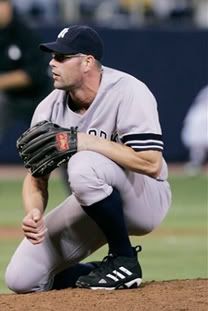 A nice rule of thumb most major leaguers live by is to try their best not to publicly criticize their teammates. Under any circumstances... even when that teammate is a total media whore, but especially when he happens to be a future Hall of Famer.

New York Yankees' reliever Kyle Farnsworth, who is 0-1 with a pretty terrible 4.41 ERA and 2 blown saves so far this season, begs to differ.

During an appearance on Chicago's 670 AM radio show "The Score" Thursday morning, he started off by criticizing the strange family clause in Roger Clemens' new one-year, $28 million contract which allows him to leave the team for personal matters when he's not pitching.

Then, he spurted his beliefs all over the Yankees' clubhouse before their 4-1 loss to the Chicago White Sox.

"As far as a teammate and a player, I think everybody should be here whether they're pitching or not," he said. "You don't see guys who are hurt not sit on the bench. They're always there."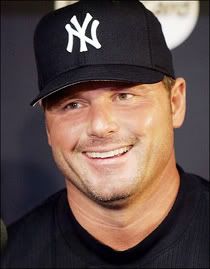 Roger's response went a little something like, "Well, until you win 7 Cy Youngs, 2 pitching triple crowns, an MVP, 2 World Series rings, get invited to eleven All-Star games or someone marries your dumb ass, there will be no bitching about my many contract clauses."
When asked if he thought Clemens' possible absence during his off days would be an issue this season, Farnsworth said, "We'll see."
I reckon
them's fightin' words
.
Editor's note: Recognizing the Rocket's talent does in no way validate a liking toward said Rocket.
[] | [
Yankees Chick
] | [
BeDazzler!
]