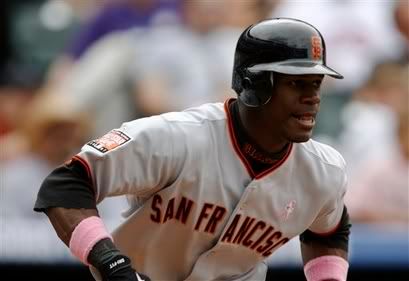 I don't think it's ever been this difficult to choose a game to recap.
Torii Hunter
had a career night while the
Twins
absolutely dominated, the
Red Sox
made an amazing comeback,
Jack Cust
is a MONSTER... and that's just the American League!
The
San Francisco Giants
(19-18) however, scored 15 runs against the
Colorado Rockies
(16-22) without slugger
Barry Bonds
. Not that impressive, until you through in a run through the cycle by rookie
Fred Lewis
.
Four days after being called up from the
AAA Fresno Grizzlies
, Lewis became the 22nd player in franchise history to hit for the cycle. He went 5-for-6 and drove in four runs. Three of those came on his first major league home run, becoming just the fourth big leaguer in history to hit his first homer as part of a cycle.
He doubled in the first, sailed a 1-0 pitch over the left-field wall in the fourth, smoked a run-scoring triple in the fifth and nailed a
Denny Bautista
fastball into right field for a single in the seventh that sparked a six-run inning. He also had a base hit in the seventh and is batting .500 (14-17) since getting called up on Thursday.
One reason this particular cycle is so amazing, is that in eleven at-bats over 13 games for the Giants last season, Lewis had just one extra base hit.
The Giants had a season-high 22 hits, including a career-high four by
Kevin Frandsen
, who drove in three runs, including one with a bases-loaded walk.
Right-handed starter
Matt Cain
(2-3, 3.18 ERA) held an opponents batting average of .194 coming into last night's game and gave up only one run and five hits in six innings of work. He struck out six and walked three.
Rockies starter
Taylor Buchholz
(1-2, 7.52 ERA) surrendered eight earned runs and 12 hits in 4.2 innings, walking one and striking out seven. But, like the rest of the Rockies pitchers, the righty couldn't get a thing past Lewis.
Willy Tavarez
and
Chris Iannetta
were responsible for driving in a run a piece for Colorado.
[
MLB
]