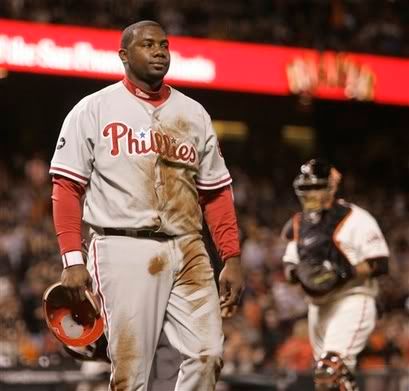 "I never want to be without Howard for a day or two weeks," manager Charlie Manuel said. "But we have to get him healthy."
After sitting out for the fifth straight game Saturday,
Philadelphia Phillies
first baseman
Ryan Howard
was placed on the 15-day disabled list with a left quadriceps strain and a sprained left knee.
An MRI exam on the knee showed no structural damage, but the other performed on his thigh revealed some internal bleeding.
After batting .313 with 58 homers and 149 RBIs in one of the greatest sophomore seasons ever, he has slumped to just .204 with six homers and 23 RBIs this season, striking out 39 times in 98 at-bats.
Related, the Phillies recalled catcher/first baseman
Chris Coste
from the
AAA Ottawa Lynx
in the absence of Howard, who is eligible to come off the DL May 25th.
[
Sporting News
] | [
Beerleaguer
]