Sitting on a full count with two men on in the second inning,
Ken Griffey Jr.
hit one deep into the right field seats off
Houston Astros'
Matt Albers
today. It was his 569th career homer, moving him into a ninth-place tie with former respected first baseman,
Rafael Palmeiro
.
Albers was the 362nd pitcher to give up a homer to Griffey.
The 37-year-old outfielder has been on an absolute tear since moving back to the third spot, hitting safely in seven of those eight games where he's nailed four of his six longballs.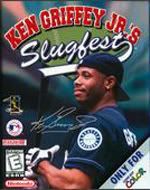 To celebrate Junior's most recent achievement, we're gonna bust out (and dust off) the old 64 and play some Slugfest.
In other Reds news,
Edwin Encarnacion
was optioned to AAA for sucking at hitting and fielding. The 24-year-old third baseman is hitting only .218 with one homer and 14 RBIs.
[
Sporting News
] | []