Chicago White Sox
hurler
Mark Buehrle
said yesterday there is absolutely no animosity between him and catcher
A.J. Pierzynski
, even after he
acted a fool in our interview
.
Buehrle defended back-up catcher
Toby Hall
on Sunday after A.J. voiced his disappointment on a Chicago radio show about Hall being chosen over him for the starting duty in the Interleague opener against the
Chicago Cubs
.
"I think it is disrespecting Toby," Buehrle told the . "It's kind of saying: 'You can't do your job.' I don't see where he has to be in there just because it's a big rivalry. That doesn't matter. He needs a day off."
Buehrle talked to Pierzynski before Monday's game against
Oakland
and smoothed things over. He explained that A.J. just likes to be involved with the media and that the whole thing was just a big misunderstanding.
Buehrle added, "We're fighting right now, take the story and run with it." Sadly, Pierzynski declined to comment.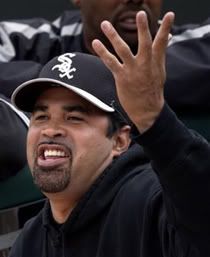 Manager
Ozzie Guillen
said that if the two want to fight it out, [lots of profanity] the locker room would be emptied so they could get it over with.
"They are going to be together for a long time. They're pitcher and catcher and I don't think there is going to be any reason to do that."
Unless Pierzynski tries to steal Buehrle's thunder again.
[] | []
*Check out (one of our Season Ticket Holders) who put Sooze on the hot seat today with ...