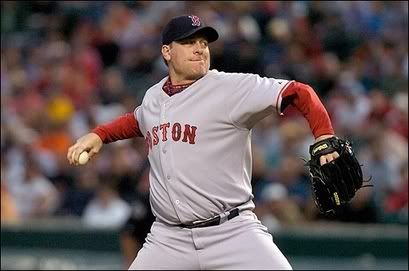 Boston Red Sox ace Curt Schilling apologized yesterday for openly criticizing San Francisco Giants left fielder Barry Bonds... under the advisement of manager Terry Francona.

After his weekly radio appearance on the Dennis and Callahan Show in which he discussed Bonds' admitted use of steroids, Francona told Schilling to keep his mouth shut and his opinions to himself.


He did however, give the veteran pitcher permission to continue writing his blog, 38 Pitches. Francona had no idea what a blog even was until until Schilling's stirred up some controversy, but says he doesn't plan to read it.

So, Schilling used his blog as an opportunity to show how big of a man he is post an apology letter to the controversial slugger.

A snippet...

"Everyone has days and events in life they'd love to push the rewind button on, yesterday was one of those days. Regardless of my opinions, thoughts and beliefs on anything Barry Bonds it was absolutely irresponsible and wrong to say what I did. I don't think it's within anyone's right to say the things I said yesterday and affect other people's lives in that way."
My only question: Why does anyone care if Barry is sad?
[
Extra Bases
] | [
Public Apology
]