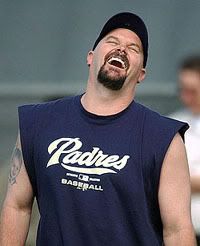 According to a family clause in Roger Clemens' contract, he will once again not be forced to travel with the New York Yankees on days he is not scheduled to pitch.

He's kind of like a spoiled child that way.

San Diego Padres closer and former Yankees teammate, David Wells seems to think he's an unrespectable bitch for doing so.


"I don't think I would ever do it because of the fact I personally think it would disrespect the team and your teammates," Wells said this week. "You look at the other players. How are they going to respect you? What are they going to think if you're not there pulling for the team?"
Future Hall of Fame pitcher
Greg Maddux
agreed with his teammate, saying he couldn't imagine doing something like that. Wells went on to say, "That's not the Yankee way. The Yankees have changed."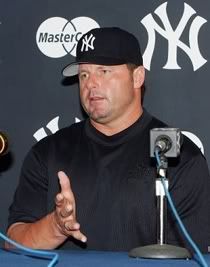 In case you've been in a coma, Clemens announced Sunday (from
George Steinbrenner's box
during the seventh inning stretch) that he would rejoin the Yankees next month. As obnoxious and annoying as that is, The Rocket has won seven Cy Young awards and has two World Series rings. The Yanks will pay about $26 million in salary and luxury tax for the one-year deal, but of course, Clemens claims that the money is not what brought him back.
Already using the proverbial "we" the Rocket described his intentions as wanting to get the great city of New York another Championship, "You're talking seven long years that we haven't been in the winners' circle."
In a very Brett Favre-esque manor, when asked whether this would be his last season in baseball, Clemens smiled and declined to say.
For an extremely entertaining look at Boomer, including his words on the Rocket, check out the Extrapolater and company's Voodoo Sabermetrics of David Wells.
[
ESPN
] | [] | [
Say What: The Rocket Edition
] | [
Lizzy's Rant
]