The New York Yankees' starting five just got a little bit worse. Carl Pavano has landed back on the disabled list, along with teammate Mike Mussina.

Pavano and Moose were placed on the 15-day DL before Sunday's game at Oakland. Pavano went down with a right forearm strain and Mussina with a left hamstring injury.

Pavano's injury-ridden past had been the target of media spotlight this spring, with many wondering if he could come back and produce after two seasons away from the game. There's your answer, people. He is 1-0 with a 4.76 ERA in two starts this time around.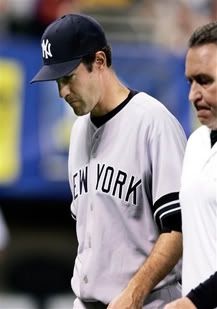 Mussina sustained his injury after an awkward delivery to Minnesota's Luis Castillo in the third inning of the Yankee's 5-1 loss to the Twins on Thursday, leaving immediately after consulting with team trainers. The veteran righty has struggled so far this season, giving up 6 earned runs on 11 hits while posting an 0-1 record with a 9.00 ERA over two starts.

So, the Yankees recalled reliever Chris Britton from Class AAA Scranton/Wilkes-Barre. Britton, who was acquired from the Baltimore Orioles for Jaret Wright in the offseason, did not make the club in spring training, but has pitched three scoreless innings and allowed only two hits in the minors this season.

The club also plans to call up Chase Wright from Class-AA Trenton on Tuesday to fill the massive void in the rotation. Wright, a 24-year-old lefty, is 1-0 with an impressive 19 strikeouts and one walk without a run allowed in two starts (14 innings).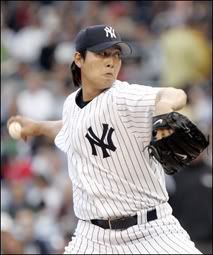 Yankees "ace" Chien-Ming Wang, who is rehabbing a right hamstring injury, may be close to returning from the DL, which he has been on since March 23rd. The righty threw five no-hit innings in an extended spring training game against Tampa Bay minor leaguers on Saturday.

[EPSN]