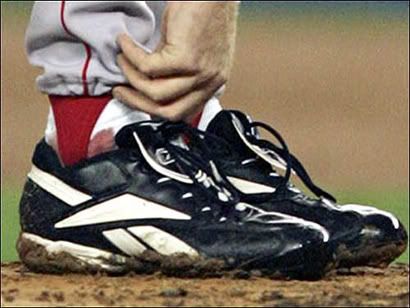 You saw this coming.

All this Sock-Gate nonsense has come to a head and Curt Schilling has posted an entry on 38 Pitches to set the record straight.

An excerpt:

"When I walked into the room for the post game interviews and offered up my first response to the questions about the game I basically said that the night was a revelation for me. That my faith in God that evening showed me things I'd never believed.

As I uttered those words I could see pretty much every person in that room roll their eyes and smirk. That's not what any of them wanted to hear, truth or not. That was not good copy. They needed more and what I didn't give them, they got themselves."
I hate to say this with all my heart, but he's right. Especially about Chicago Sun-Times columnist
Jay Mariotti's
make-up plastered face.
Hat tip to the tall, dark and handsome Ian at !
[
38 Pitches
]