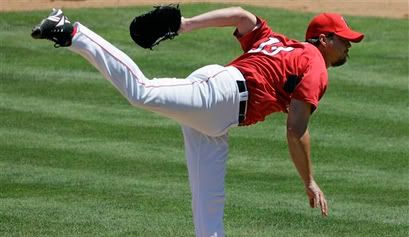 The Kansas City Royals knocked the Sox off Boston on Opening Day, looking like the World Series contenders with the top-notch pitching staff. Okay, I won't go that far.
The Red Sox will try to get things turned around with
Josh Beckett
on the hill, continuing the three-game series at
Kauffman Stadium
.
The Royals, who are coming off three straight 100-loss seasons, played like a new team on Monday, roughing up
Curt Schilling
and co. with a 7-1 victory. Schilling is supposed to be the ace of one of the better pitching staffs in the majors - with Beckett, Japanese sensation
Daisuke Matsuzaka
and knuckleballer
Tim Wakefield
- but he ended up getting knocked around for one of the shortest outings of his career. He was pulled before the fifth inning began after allowing five runs on eight hits. Then,
he blogged about it
.
So, the Royals opened their season with a W for the third time in the last nine years with a variety of players stepping up, including starter
Gil Meche
, who left the game to a standing O when he was relieved after 7.1 innings.
Beckett, the former World Series MVP, finished 16-11 with a 5.01 ERA, and had a career-high 74 walks while giving up 36 homers, the second-most in the majors. The city of Boston is expecting a bit better from him in his second season with the team. Luckily, he is 1-0 with a 2.45 ERA in three starts against Kansas City.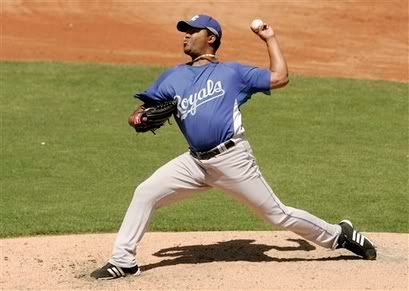 Odalis Perez
will make his first start for the Royals in an attempt to put a miserable 2006 behind him. The lefty finished 6-8 with a 6.20 ERA in 32 games between the
Los Angeles Dodgers
and the Royals. Perez is 0-1 with a 3.32 ERA in three starts against the Red Sox.
[
MLB
]