Florida 8, Baltimore 6
Making his debut with
Baltimore
,
Steve Trachsel
gave up three runs, four hits and a walk Thursday in the Orioles' 8-6 loss to the Florida Marlins. It was his first time on the hill since last October, when he gave up five runs and five hits to the
St. Louis Cardinals
in Game 3 of the NLCS, his last stint with the New York Mets.
Unlike Trachsel,
Jeremy Guthrie
enjoyed an impressive spring training debut with the O's, tossing two hitless innings and striking out one.
Atlanta 7, LA Dodgers 2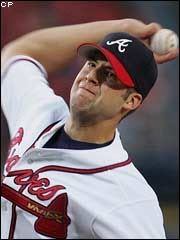 Kyle Davies
is off to a promising start for the
Atlanta Braves
this spring after throwing two strong innings Thursday in a 7-2 victory over the
Los Angeles Dodgers
, retiring all six batters he faced and throwing 11 of 17 pitches for strikes. Braves infield prospect
Yunel Escobar
went 3-for-3, while
Jarrod Saltalamacchia
(huh?) had a two-run single that helped bust the game open in the sixth.
Dodgers starter
Randy Wolf
, who signed during the offseason as a free agent, gave up four hits and a run in two innings.
LA Angels 7, Kansas City 6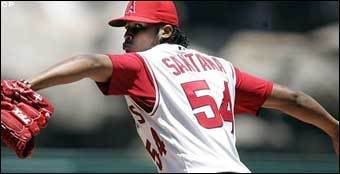 Angels
starter
Ervin Santana
struck out two and walked two in two innings against the
Kansas City Royals
and
Gary Matthews, Jr.
went 0-for-2 in the Angels' 7-6 victory in their exhibition opener. Distracted, maybe?
The Royals'
Brian Bannister
started and gave up one hit and struck out one in two innings. Another newcomer on Kansas City's revamped pitching staff,
Joakim Soria
, had one strikeout in two innings.
NY Yankees 6, Minnesota 1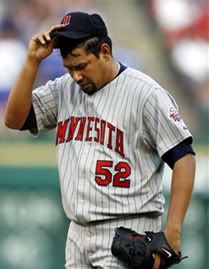 Johnny Damon
hit a leadoff home run,
Jason Giambi
also homered and
Chien-Ming Wang
pitched two perfect innings as the
New York Yankees
beat the
Minnesota Twins
6-1 Thursday in an exhibition opener.
Carlos Silva
allowed five runs and four hits over two innings, using 42 pitches, including 26 in the first inning alone with absolutely no movement on his slider.
[
MLB
] and [
MiLB
]