Nationals 10, Tigers 4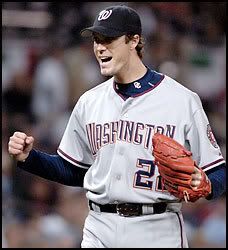 In just his third start of the spring,
John Patterson
allowed one run on four hits, walking three and striking out two in the
Washington Nationals'
fifth consecutive win, a 10-4 victory over the
Detroit Tigers
.
The projected Opening Day starter, recovering from a forearm injury that cut his 2006 season short, saw his only trouble in the fourth inning when he gave up a solo shot to
Chris Shelton
along with a double and two walks.
Ryan Zimmerman
went 2-for-3 with a homer, double, walk and two RBIs for the Nats while
Nook Logan
added an RBI triple, two-run double and scored a run.
Tigers starter
Nate Robertson
pitched five innings, allowing five runs on four hits with three walks and four strikeouts after previously surrendering one run over 12.1 innings.
Red Sox 3, Orioles 2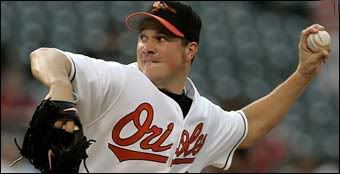 The
Baltimore Orioles'
Opening Day lefty,
Erik Bedard
, held the
Boston Red Sox
hitless for 4.2 innings before
Jason Varitek
broke out of his slump with a solo shot that helped the Sox to a 3-2 win.
Bedard allowed one hit, struck out eight and walked two, getting away with several balls hit to the warning track for outs.
Boston also went with its Opening Day starter,
Curt Schilling
, who pitched seven solid innings. He allowed consecutive RBI doubles in the fourth to
Jay Gibbons
and
Kevin Millar
, but finished with six strikeouts, six hits and no walks.
Boston tied the game in the eighth on
Eric Hinske's
RBI groundout and won it on
Kevin Cash's
run-scoring single in the ninth, one of the team's four hits.
Braves 7, Phillies 4
Kyle Davies
, hoping to remain one of the
Atlanta Braves'
starting five, allowed three hits and a run over six innings in the Braves' 7-4 win over the
Phillies
. He walked one, struck out four and is 1-0 with a 1.93 ERA through four spring starts.
Davies, competing with
Mark Redman
and
Lance Cormier
for the last two spots in the rotation, has changed his delivery up a bit on the advice of pitching coach
Roger McDowell
. The right-hander has been holding his arms low instead of over his head at the start of his delivery, adding more comfort while standing over the rubber.
After posting a 7-6 record as a rookie in 2005, Davies slumped to 3-7 with a 8.38 ERA last season after suffering a severe strain to his right groin on May 15th, missing 94 games following surgery.
Cormier is 3-0 with a 1.29 ERA and Redman has a 4.50 ERA in three starts - considered the favorite for the fourth spot in the rotation. Davies is making the choice difficult, however.
Brett Myers
, who allowed six runs in 6.1 innings for the Phillies, said he was honored to get the ball for the April 2nd game. "It means a lot to be categorized with those guys, but any of our guys could be put in the ace spot and be able to perform. We have a good staff."
Newcomer to the Braves' relief corps, former
Pirate
Mike Gonzalez
, struck out two in a scoreless inning after struggling earlier this spring with a 7.00 ERA.
In other news out of Philadelphia: right-hander
Freddy Garcia
and catcher
Carlos Ruiz
will both be examined by team physicians on Saturday after experiencing shoulder soreness Wednesday.
[
MLB
] | [
MiLB
]