Twins 4, Phillies 3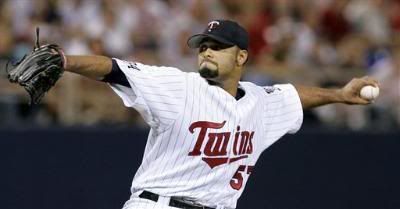 Johan Santana
has struggled to find his changeup recently, but it's all there now. The American League Cy Young Award winner allowed just one hit in five shutout innings, helping the
Minnesota Twins
beat a
Philadelphia Phillies
split squad, 4-3 on Sunday. He walked three and struck out two, lowering his spring ERA to 0.64.
The reigning AL MVP,
Justin Morneau
, who ended his home run drought on Saturday, homered again for Minnesota and is 5-for-6 in his last two games.
The Phillies didn't bring any regular starters to Fort Myers other than outfielder
Shane Victorino
, who went 1-for-3 with a single, hitting .432 this spring.
Before the game, the Twins informed
Denard Span
, the likely heir apparent to
Torii Hunter
in center, that he had been optioned to
AAA Rochester
.
Red Sox 2, Orioles 1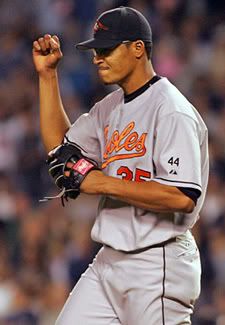 Daniel Cabrera
walked five batters in five innings Sunday while the
Baltimore Orioles
lost 2-1 to the
Boston Red Sox
in front of Orioles owner Peter Angelos. Not cool.
The 6'-7" righty allowed only one run with three strikeouts in five innings despite having problems with overthrowing. The only hits he gave up were consecutive doubles by
Joe McEwing
and
Alberto Castillo
that tied the score at 1 in the fifth.
Five Boston pitchers limited the Orioles to five hits, including an RBI single by
Aubrey Huff
.
Julian Tavarez
pitched three scoreless innings of two-hit relief for Boston, and Mike Burns worked a perfect ninth for the save.
Red Sox starter
Kason Gabbard
pitched three shutout innings, giving up one hit and striking out two.
Curt Schilling
threw 98 pitches over six solid innings in a game featuring mostly AAA players at Boston's minor league complex. Schilling mixed all his pitches and hopes his next start will prove to
Terry Francona
that he's prepared to go deep into the game during Boston's season opener at
Kansas City
on April 2nd.
Astros 4, Blue Jays 3
Roy Oswalt
allowed three runs and one hit in 5.2 innings to help the
Houston Astros
beat the
Toronto Blue Jays
, 4-3. He didn't allow a hit until
Reed Johnson's
double in the sixth inning. Manager
Phil Garner
called Oswalt's spring training performance "outstanding."
Oswalt had planned to pitch just five innings, but returned for the sixth because he had thrown only about 50 pitches up until that point. He finished with 71 pitches - 48 for strikes. Oswalt is set to start his fifth straight Opener after going 15-8 with a 2.98 ERA last season.
Carlos Lee
, batting .433 this spring, had a two-run single in Houston's four-run fifth inning.
A.J. Burnett
allowed four runs and four hits with three walks in 4.1 innings for the Jays, working in some changeups and curveballs. He allowed just one hit over the first four innings before giving up all four runs in the fifth.
Casey Janssen
impressed the club by allowing one hit and striking out five over 2.2 innings, helping his case for the big leagues. Non-roster invitee
Hunter Pence
, who is batting .593 this spring, had a triple in the eighth for Houston.
[
MLB
] | [
MiLB
]