Twins 1, Red Sox (ss) 0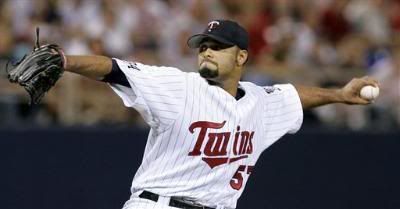 Had this been a regular season game, it would have been the matchup of the week.
A good old-fashioned pitcher's duel between
Johan Santana
and
Curt Schilling
highlighted this exhibition game, as Johan tossed three scoreless innings to lead the
Minnesota Twins
over the
Boston Red Sox
split squad, 1-0 Thursday. Santana mixed pitches, striking out three of 12 batters.
Schilling struck out four in four innings, allowing one run, two hits and one walk. He also worked on a changeup using it on 14 of 60 pitches.
When asked about the recent conversation he had with the media, Santana said, "I would love to stay here. It's going to be up to them to make it happen. Hopefully they'll find a way to keep this team together when they get a new ballpark for many years to come."
Another Twins Venezuelan lefty,
Jose Mijares
, earned the save with a perfect ninth in his first spring training appearance after missing the past two weeks when his brother was killed by a gunshot in Caracas.
Nationals 12, Astros 5
Shortstop
Josh Wilson
went 3-for-3 with two RBIs and two runs scored in the
Washinton Nationals'
12-5 win over the
Houston Astros
. The 25-year-old raised his batting average from .222 to .417 after batting .307 with 10 homers and 45 RBIs in 89 games for AAA Colorado Springs last season.
Starter
Jason Simontacchi
showed a lack of control when he allowed three runs and four hits in four innings with four strikeouts, no walks and two hit batters.
Houston's
Jason Jennings
gave up four runs and five hits in three innings, striking out three and walking one.
Jason Bergmann
pitched three scoreless innings of relief for the Nats, keeping his ERA at 0.00 in five innings.
Chris Snelling
was 2-for-3 with two RBIs and
Abraham Nunez
homered for the Nationals while
Robert Fick
singled in a pair of runs in Washington's five-run eighth.
Houston's
Jason Lane
was 3-for-4 with a home run, a double and two RBIs while
Hunter Pence
hit a two-run homer.
In other Astros news, catcher
Hector Gimenez
had surgery to repair his torn labrum and is expected to begin throwing in about three months.
Marlins 2, Dodgers 1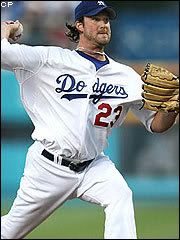 Derek Lowe
and
Anibal Sanchez
, the two most recent owners of major league no-no's, were both sharp in the 2-1 win over the
Los Angeles Dodgers
.
Each pitched three good innings, with Lowe allowing 1 hit and no runs off 10 batters while Sanchez allowed one run - a
Nomar Garciaparra
homer - struck out four and didn't walk a batter in his second spring start.
With #2 starter
Josh Johnson
out for at least two months with nerve irritation in his pitching arm, Sanchez is contending with
Scott Olsen
and
Ricky Nolasco
for the spot behind opening day ace
Dontrelle Willis
.
Miguel Cabrera
was 3-for-3 with a two-run single as the Marlins scored two runs in the sixth inning.
[
MLB
] | [
MiLB
]