Milwaukee 21, San Francisco (ss) 2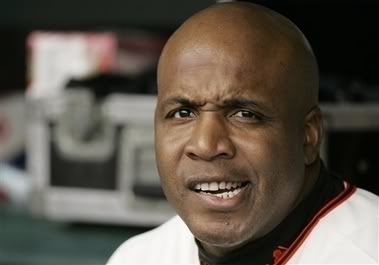 It wasn't the world's greatest Sping Training debut for Barry Bonds, as he lost a fly ball in the sun and went down swinging at a high pitch so far out of the zone it almost nailed Blue in the mask.
He went 0-for-2 in the Giants' 21-2 loss to a Brewers split squad, disappointing the 7,380 fans who packed Scottsdale Stadium for the Giants' home exhibition opener. A first-pitch ground-out ended the first inning for Bonds and he struck out swinging on four pitches by Milwaukee prospect Yovani Gallardo, a 21-year-old righty who led all minor leaguers with 188 Ks last year.
Matt Cain had a 1-2-3 first inning, then struggled through the second - the day after agreeing to a $9 million, four-year contract. Hernan Iribarren hit a three-run homer and Ryan Braun hit a solo shot, his third long ball in two days after connecting twice in a win over Oakland on Thursday. JD Closser added a two-run bomb, helping Milwaukee finish with 24 hits total. Left fielder Geoff Jenkins got hit in the groin late in the game, always funny, but not serious.
NY Yankees 3, Tampa Bay 1
With his own retirement on the back burner for now, Andy Pettitte threw 20 pitches - 15 strikes - retiring all six batters he faced Friday. Chris Basak's three-run homer in the eighth inning off Ruddy Lugo gave the Yankees the lead and Shawn Riggans drove in Tampa Bay's run with a seventh-inning infield single, while Devil Rays offseason acquisition Akinori Iwamura went 0-for-2 in his spring debut.
For the second day in a row, the Yankees received two perfect innings from their starting pitcher.
San Diego 3, Seattle 2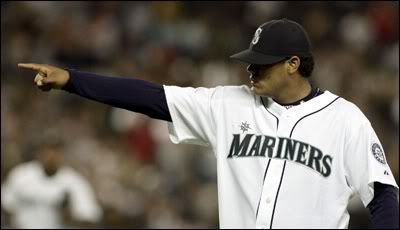 After dropping 20 pounds in the offseason, ace Felix Hernandez allowed one run in two uneven innings during San Diego's 3-2 win over Seattle. The 20-year-old ------- gave up a solo homer by Paul McAnulty, an infield single and a walk, overthrowing most of his pitches up high. The first teenager to strikeout 10 batters in a game since Dwight Gooden in 1984, Hernandez said he's in the best shape of his life.
Chris Young, who will be San Diego's #2 starter this season, allowed two runs on three hits in a 24-pitch first inning with Raul Ibanez hitting a 3-2 fastball far over the right-field pen for a trip around the bases.
Ichiro Suzuki went 0-for-2 after sitting out Thursday's charity exhibition against San Diego. The fast-as-lightning, six-time All-Star lappeared safe on an infield chopper to shortstop in the third inning, but was called out.
San Diego 2B Marcus Giles, reunited with his brother Brian on their hometown team after he signed a one-year contract in December, went 2-for-3 with a double.
Arizona 10, White Sox 3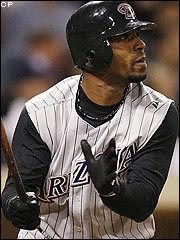 Infielder Alberto Callaspo went 2-for-3 with a run scored in the Diamondbacks' 10-3 victory over the Chicago White Sox on Friday. He led off the first inning with a line-drive single off Jose Contreras, moved up on a pair of wild pitches and scored on Chad Tracy's groundout. Callaspo, who started at second base, added another single in the fourth off of Wes Wisler.
While Callaspo was making a strong impression, Contreras, Chicago's Opening Day starter, walked three and threw two wild pitches, all in the first inning. To save face, he laid down the perfect sacrifice bunt against Arizona's Livan Hernandez, his former teammate on the Cuban national team, who allowed one run and three hits in three innings for the victory.
Arizona's Randy Johnson threw in the outfield on Friday and is scheduled to throw off a mound on Sunday and could pitch batting practice as early as next week.
[
MLB
] and [
MiLB
]