Twins 4, Red Sox 4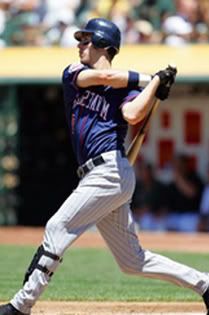 Wouldn't you know, my and Lizzy's first rivalry of the season would end in a tie.
Matt Garza
, the
Twins'
minor league pitcher of the year last season, pitched two scoreless innings, making a positive impression for his bid on the team's rotation while striking out
Big Papi
on a slider in the first inning.
The Twins had taken a 1-0 lead in the third against
Boston's
closer candidate
Joel Pineiro
on a single by
Jason Bartlett
, a throwing error by
Julio Lugo
at short, then an RBI single by
Rondell White
.
The Red Sox went ahead 4-1 against
Scott Baker
with two runs in both the third and fourth innings. Lugo and Ortiz singled in runs in the third and
Jacoby Ellsbury
doubled home two in the fourth.
Curt Schilling
allowed two hits for Boston before
Julian Tavarez
gave up a three-run shot in the fifth to AL batting champ
Joe Mauer
.
The Twins almost took the lead in the ninth, but right fielder
Alex Ochoa
turned a double play by catching
Alexi Casilla's
fly ball and throwing out
Luis Rodriguez
at home after he tagged up. Ochoa, showing off a prospective cannon, also threw out a runner at second in the fifth.
Center fielder
Torii Hunter
is day-to-day after bending a fingernail back while sliding.
Cardinals 6, Marlins 3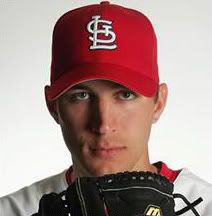 World Series closer
Adam Wainwright
pitched three hitless innings for the
St. Louis Cardinals
Wednesday to help beat the Florida Marlins 6-3 in the exhibition opener for both teams.
Wainwright, who earned the win, walked one, but used only 30 pitches - 15 strikes - to get through the first 10 batters. After filling in for an injured
Jason Isringhausen
last October, allowing no earned runs in 9.2 posteseason innings, Wainwright will likely be a starter this season, unless Isringhausen suffers a setback in his rehab from hip surgery.
Former Cardinals left-handed pitcher-turned outfielder
Rick Ankiel
went 2-for-2 with a two-run single but was thrown out at the plate twice, as he bids for a spot on the roster.
Florida lefty starter
Scott Olsen
took the loss, allowing one run and four hits in 1.2 innings and
Ricky Nolasco
pitched two scoreless innings for the Marlins.
Rockies 12, White Sox 4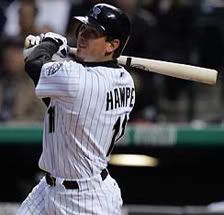 Competing for
Colorado's
#1 starter spot,
Aaron Cook
allowed one hit in two scoreless innings Wednesday, helping the Rockies start the exhibition season with a 12-4 victory over the
White Sox
.
Chicago's
Mark Buehrle
, on the other hand, allowed four runs and six hits in the first two innings, while
Jon Garland
gave up seven runs - six earned - and eight hits in the next two innings.
Outfielder
Brad Hawpe
just pounded the ball off those two: a two-run double off Buehrle and a double and a single against Garland.
Matt Holliday
went 2-for-3 with a single and a two-run homer, while
Garrett Atkins
and
Javy Lopez
had two hits apiece for the Marlins.
Joe Crede
and
Juan Uribe
each had two hits for the White Sox.
Bobby Jenks
, who led the South Siders with 41 saves last year, hit
Jayson Nix
and walked another batter before being taken out after just nine pitches due to tightness in his right shoulder. He'll be evaluated Thursday.
[
MLB
] and [
MiLB
]