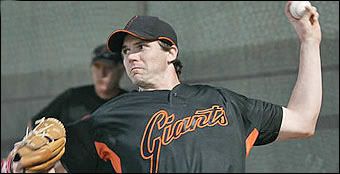 Remember five years ago? Me neither. I bet we all remember when the 2002 All-Star game ended early for no apparent reason, though.

From Peter Gammons...

As it turns out, the reason the 2002 All-Star Game ended up tied was that a pitcher on one of the two teams was imbibing in the clubhouse and was not in condition to pitch, hence the game ended.

And that's how home-field advantage is decided in the World Series, not by regular-season excellence.
Interesting point, Peter. AOL Sport Editor Andrew Johnson puts it all together for us. He says...
It's pretty fishy that Joe Torre would pull [Barry] Zito, a starter, after only three pitches, one out, one batter, and one actual strike, and furthermore replace him with another southpaw.
So, was he drunk? Given his reputation as a party animal/total weirdo, anything is possible.
[
MLB Fanhouse
] | [
Peter Gammons Blog
] | []