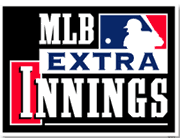 This, my friends, is good news for us poor folk.

Major League Baseball's Extra Innings package of out-of-market games may end up staying on cable television, after all.

IN Demand announced Wednesday that it will offer to match the terms of DirecTV's $700 million, seven-year deal with MLB on behalf its owners - affiliates of the companies that own Time Warner, Comcast and Cox cable systems.

As part of the offer, iN Demand says it would carry The Baseball Channel when it launches in 2009, at least matching the number of subscribers who would get the channel on DirecTV.

Says Robert Jacobson, the president of iN Demand, "As the current home for 'Extra Innings' for more than 200,000 cable subscribers, we have extended ourselves to do our best to be able to continue to provide this package to baseball fans and our customers. This offer meets all the conditions set forth by MLB last week."
Update: False Alarm. Apparently, iN Demand's offer fell short. But, they have until March 31st to put up a new offer that matches all criteria.
[
Yahoo! News
] | [
ESPN
]