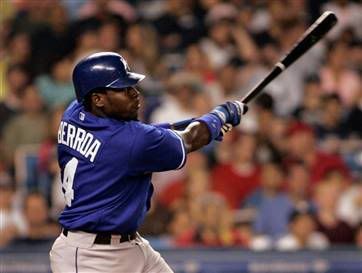 Seriously. How can a thing like this happen?

Angel Berroa has gone from being the 2003 American League Rookie of the Year to possibly losing his job as the Kansas Shitty City Royals' starting shortstop.

The right-handed hitter has struck out 12 times in 26 at-bats during spring training this year. For all you math-whizzes out there, that's almost half of his plate appearances.

Berroa will be competing for the starting job with Alex Gonzalez, who has started for the Toronto Blue Jays and Chicago Cubs, along with prospect Andres Blanco. And it is wide open, says manager Buddy Bell...

"We still want Angel to be the shortstop. We still expect him to be the shortstop, but that could change in the next couple of days. He has to play better. He knows that. He wants to play better. Angel is still ahead. That is a decision that more than likely will go down to the end."
Berroa hit .287 with 17 home runs, 92 runs and 21 steals as a rookie, but in 2006, he slipped to .234 with nine homers, 68 runs and only three stolen bags in four attempts. He grounded into 21 double plays and his .190 road batting average was the absolute worst in the American League.
[
Yahoo! Sports
]