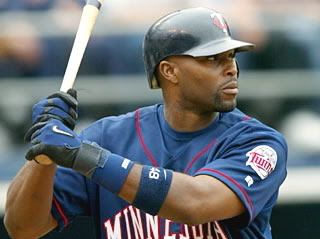 Minnesota Twins center fielder Torii Hunter was nailed in the head by a first-inning pitch from former teammate Kyle Lohse on Friday night and left for the remainder of the game against the Cincinnati Reds. He was hit on the left side of his batting helmet and did not appear to lose consciousness or have any signs of a concussion.


Lohse, who was traded to the Reds last July after five-plus seasons with Minnesota, had runners at second and third and was trailing 1-0 when he hit Hunter. After lying in the dirt around home plate for close to four minutes, Hunter walked back to the dugout with a trainer on each side of him. When Lohse walked over to check on Torii, Twins manager Ron Gardenhire - whose office door was bashed in by Lohse last season - patted him on the shoulder as to say, "It's alright, buddy. I won't punch you in the face."

Lohse lasted two-thirds of an inning and left with a mild strain of his right hamstring before being replaced by Brian Meadows.


In other Twins news, injured left-handed phenom Francisco Liriano and righty Boof Bonser were each inked to 2007 contracts, along with 21 other players on Friday. Liriano wowed the American League in 2006, going 12-3 with a 2.16 ERA in 28 games - 16 starts. The 6'2", 200-pound Dominican was named to the All-Star team before a season-ending elbow injury forced him into Tommy John surgery. Bonser was 7-6 with a 4.22 ERA in 18 starts and is vying for a permanent spot in the Twins rotation.

[Minnesota Twins]