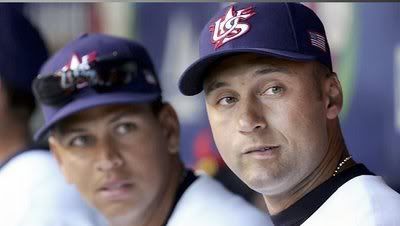 Alex Rodriguez has stooped to taking a lover's quarrel to the media, admitting that his relationship with Derek Jeter has "cooled."

"You go from sleeping over at somebody's house five days a week, and now you don't sleep over. It's just not that big of a deal," A-Rod told the AP yesterday. TOO EASY.

So what changed? A-Rod got sick of the nipple clamps? He accidentally erased off the Tivo and that was the last straw for Princess Derek? Jeter kept leaving the toilet seat up? Because you know A-Rod pisses sitting down.

What does this mean for the left side of the Yankees infield? Another season of a lovelorn Alex gazing longingly at Jeter while Derek blatantly ignores him?

Sorry guys, I'm a little off today. This one is just too easy. The whole story reads like a pathetic love song from a broken hearted woman. Bring back that lovin' feeling..


Source: Yahoo! News.