Labels: ,
Posted by Sooze on 2 comments
Minnesota's
Annual Winter Caravan is just around the corner, spanning 50 communities in four states from Jan. 15-25.
In its 47th year as the biggest offseason team caravan in professional sports, it will once again feature five groups of current and former players visiting schools, hospitals and other community locations each day, before ending with the traditional
Hot Stove League
program each evening.
Joining the players and coaches on each leg of the tour will be a member of the Twins' radio/television broadcast team, including the longtime voice of Twins baseball,
John Gordon
as well
Dan "Dazzleman" Gadden
,
Dick Bremer
and
Bert Blyleven
. Twins legend
Tony Oliva
will also participate in the event.
You can find the complete list of players, dates and locations
here
.
Labels:
Posted by Sooze on 0 comments
The Twins have reached an agreement with outfielder
Rondell White
on a $2.75 million, one-year contract. With a second-year option and performance bonuses, White could make $8.5 million with 650 plate appearances or more in each of the next two seasons with a $250,000 buyout (pending a physical).
White had more than a rocky start to the 2006 season. After being bothered by shoulder problems and a hamstring injury halfway through the year, he was batting just .182 with 15 RBIs and no home runs as the club's designated hitter. He was then placed on the DL and sent down to
AAA Rochester
for a rehab assignment.
Rondell came back to take over in left field for hobbled rookie,
Jason Kubel
and finished the year with a .246 average, seven homers and 38 RBIs in 99 games. The move will likely leave Kubel as the leading candidate to fill the DH spot, with newly-acquired veteran
Jeff Cirillo
also seeing plenty of time there.
Labels: ,
Posted by Sooze on 2 comments
Labels: ,
Posted by Sooze on 2 comments
The toughest man to ever pitch in a
Twins
uni is expected to announce his retirement Tuesday.
Drafted by the Twins in 1991,
Brad Radke
, 34, joined the rotation in 1995. He has spent his entire 12-year career in Minnesota, becoming a fan favorite and eventual veteran go-to guy on the hill.
Brad was able to start five playoff games over four seasons, along with an All-Star appearance in 1998, but never got the opportunity to pitch in a World Series. He put together a career record of 148-139 with a 4.22 ERA, winning 20 games in '97, when the Twins went 68-94.
What's makes Brad so tough? After playing with pain for the past few seasons, as many players do, he suffered a stress fracture of the glenoid bone in his throwing shoulder in late August. He was able to come back from the injury to make his final regular-season start: Game 3 of the ALCS against the Athletics. He pitched four innings with a torn labrum and broken shoulder socket. On off days, he didn't even shampoo his gorgeous hair with his right arm, let alone throw a baseball.
"He's the guy you want on the mound for you in big games," Ron Gardenhire said this past season. "There's no one we'd rather see out there than Brad."
Well, I beg to differ Gardy. Sentimentally speaking, I guess I could agree with you.
Radke leaves behind an era of dedication and hair gel. He became the first Twins pitcher since Jim Kaat to have 10 seasons with at least 10 victories, throwing more than 200 innings in his career.
We'll sure miss writing about him on the regular at Babes That Love Baseball.
Labels: ,
Posted by Sooze on 3 comments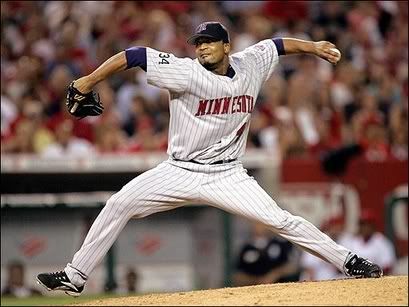 Despite missing most of August and September due to a surgery-inducing arm injury,
Francisco Liriano
made a lasting impression on baseball fans. After four months of dominance with a 12-3 record and an impressive 2.16 ERA, Liriano was voted by fans
TYIB's
Rookie of the Year.
Liriano began the 2006 season in the
Twins'
bullpen, surrounded by fan anticipation. He entered the rotation in mid-May and for the first half of the year, wowed baseball with his ability to punish the strike zone (144 Ks), winning 9 of his first 10 starts and putting up a 1.92 ERA in all sixteen.
Suddenly, the Twins found themselves above .500 after being 8 games in the cellar, when Liriano picked up the starting role. He earned a rookie trip to the All-Star game in Pittsburgh, becoming a last-minute replacement for Jose Contreras and it seemed as if the Rookie of the Year candidate was all but decided.
His second half? Not so much. Francisco missed most of the last two months of the season due to unexplainable elbow pain. He attempted a comeback late in the year, and was pitching lights-out in his one and only game back before he threw out his elbow in the third inning, silencing the Metrodome.
Liriano tried to rehabilitate the injury this off season, but became impatient and frustrated in early November with how the rehab was progressing and underwent ligament-replacement surgery. He will be out until at least 2008, requiring intensive rehabilitation before he can return.
Saddest. Story. Ever.
Labels: ,
Posted by Sooze on 5 comments
The
Twins
had two new free agents Tuesday night, but only one of them was invited back to Minnesota.
The club decided to non-tender relief pitcher
Willie Eyre
and infielder
Luis Rodriguez
before Tuesday's 11pm CT deadline, but resigned L-Rod the same day, to a much more affordable contract.
Eyre has decided to test the free-agent waters, which could be a good move for him, considering there are many teams looking for quality relief.
Neither player had three years on the club (the required amount for salary arbitration) so the move to non-tender Eyre came as puzzling. Eyre is still a fairly young ballplayer at 28, and spent the entire 2006 regular season in middle relief for the Twins. He went 1-0 with a 5.31 ERA in 59.1 innings, with obvious improved comfort.
On the other hand, even if the Twins lose Willie, it would open up a spot on their 40-man roster for future moves. It's clear they will be looking for someone to fill the hole in their starting rotation and may find luck in some pitchers not offered contracts this week. The Mets non-tendered righty
Victor Zambrano
for example, when healthy, can be a decent starter - holding a career 4.45 ERA in 6 seasons.
Labels: , ,
Posted by Sooze on 0 comments
The
Twins
are taking the silent but deadly approach this offseason.
Pending a physical,
Jeff Cirillo
will reportedly sign a one-year contract in the neighborhood of $1 million with the Twins as a backup infielder, primarily at third base, first base and DH.
Cirillo, 37, batted .319 with three home runs and 23 RBIs in 112 games with the
Brew Crew
last season and holds a career .299 batting average at the Metrodome. His decision to leave Milwaukee wasn't an easy one, but it came down to playing time. As a fan favorite, Cirillo holds the club's career batting average after spending eight of his thirteen Major League seasons in Milwaukee.
He
did
receive a one-year, $1.2 million offer from the Brewers for 2007, but it came with limited playing time considering
Tony Graffanino's
return and the addition of veteran
Craig Counsell
.
"I'm torn, because you want to be loyal to the Brewers, and the fans have treated me so well there," he said. "But at the same time, I would have been relegated to pinch-hitting. I know how hard it is to be the 'pinch-hit guy.' I also know that things happen every year. Baseball is a long season, and guys get injured. But the role I'll be playing in Minnesota will probably get me three times as many at-bats. It came down to playing time."
Welcome aboard, Jeff!
Labels: ,
Posted by Sooze on 2 comments
The
Twins
have signed three players to Minor League deals with invitations to Major League Spring Training.
Left-handed pitchers
Mike Venafro
and
Carmen Cali
plus first baseman/DH
Ken Harvey
will all try to compete for roster spots in Fort Myers, this spring.
Minnesota's goal is to add another lefty to the bullpen to take some of the workload from
Dennys Reyes
. Venafro, 33, was 1-0 with a 2.45 ERA in seven games with the
Rockies
last season while Cali, 28, was 1-6 with a 4.07 ERA in 50 Minor League appearances in 2006.
The Twins are looking at Harvey, 28, to compete for the open designated hitter's spot. He was once a promising
Royals
prospect, but after a strong rookie season in 2003 and being named to the AL All-Star team the following year, he has played in just 12 Major League games due to recurring back problems in 2005 and undergoing surgery on his left Achilles tendon before the 2006 season. Harvey has a career .274 batting average, with 27 home runs in 998 at-bats.
Labels: ,
Posted by Sooze on 4 comments
The
Twins
added some more infield depth on Thursday morning, selecting shortstop
Alejandro Machado
and his solid glove from the
Nationals
during the Rule 5 Draft.
Machado spent last season with AAA
Pawtucket
, where he batted .260 with 12 doubles, four triples, four homers and 32 RBIs in 116 games, before being signed to a Minor League contract by the Nationals in November. Machado, 24, was signed as a non-drafted free agent by the Braves in 1998. Praised mostly for his defense, Machado can play a variety of positions in the infield. Offensively, he's not the best, but seems to be what the Twins need for a reserve.
In the AAA phase of the Draft, The Twins selected right-handed pitcher
Jesse Floyd
and third baseman
Brian Buscher
, both from the
San Francisco
organization.
Minnesota did lose four players in the Draft, however. The biggest loss being lefty pitcher
Justin Jones
. The 22-year-old, who selected by
Washington
in the AAA portion, was taken off the Twins' 40-man roster earlier this offseason. Jones was the only player Minnesota received when they traded
Doug Mientkiewicz
in 2004 at the trade deadline.
Right-handed pitcher
Kevin Cameron
was selected by
San Diego
and
Levale Speigner
went to Washington in the Major League portion of the Draft, while outfielder
Erold Andrus
was chosen by
Tampa Bay
. A total of 46 players were taken overall.
Complete Rule Five Draft Results
.
Labels: ,
Posted by Sooze on 0 comments
At the very top of the
Twins'
Christmas List this year, is another starting pitcher. When asked what five would fill out the Twins' 2007 staff if
Ron Gardenhire
had to act right now, the skipper chuckled,
"Next question. I don't even know the first three [starters] yet. Let me give you three, and then we'll go for the other two."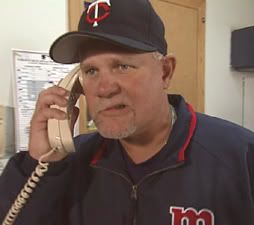 During Gardy's twenty minute media interview on Wednesday, this was the main topic of conversation. Clearly, there are some gaping holes to fill.
The only sure bets in Minnesota's rotation are
Johan Santana
,
Boof Bonser
and
Carlos Silva
. The other two spots are open to competition between
Matt Garza
,
Scott Baker
and
Glen Perkins
, unless of course, the Twins add another arm before the start of Spring Training.
Minnesota has been looking for an extra arm, but the only name that has surfaced publicly is right-hander
Jason Jennings
of the
Rockies
. Trade talks between Colorado and the list of clubs interested in Jennings is huge, leaving few options for the Twins in what seems to be a highly competitive market this year.
says that the club has its eye on at least six different pitchers that they feel would be a good fit in the Twin Cities, but with their shallow pockets and the high demand for starters around the league, the Twins could be left to defend for themselves.
This will force the big dogs to get creative, working with some of what they already have.
Matt Guerrier
doesn't seem to be a consideration, but Gardy did mention
Dennys Reyes
as a last resort, if the team gets down to very few options. They would also love to add another lefty in relief, to lighten Reyes' load in the bullpen.
Baby, Please Don't Go:
Any announcement concerning
Brad Radke's
retirement has yet to come, so many have been speculating about a possible return by the veteran, which would be awesome. Wishful thinking though, if you ask me. We would all love Radke to come back for one more year, and word on the street is that the Twins are trying to talk him into returning. The chances of that actually happening are slim.
Also, the Twins are considering bringing back
Rondell White
as their starting left fielder, while possibly putting lefty
Jason Kubel
in the designated hitter's spot if no extra bats are added in the off season.
Labels: ,
Posted by Sooze on 4 comments
Even with some holes to fill, Terry Ryan has made it clear the Twins' approach will stay the same when it comes to how the club will operate this week. Quietly watching, waiting to not pounce.
But silence may not fill the
void
in the Twins starting rotation.
Ryan spent most of Tuesday at committee meetings before attending the awards banquet held by Baseball America to accept Johan Santana's Player of the Year award, but that did not keep him from lending an ear to ongoings at the meetings.
"We are not going to pretend we're somebody we're not," Ryan said. "Our philosophy has pretty much been in place for years and it has served us well. Unfortunately, it doesn't make big news. I think we've got a pretty good feel for where we're at here in terms of matches. See the best fit...and there are some people that are a better fit than others. I had the chance to talk to talk to a lot of people today, so that's a start."
One rumor that has seemed to persist during this year's meetings is the notion the Twins could be looking at
Barry Bonds
to fill their void at designated hitter. A column that ran in the New York Times on Sunday argued Minnesota could be the best fit for Bonds. The same article speculated that the team might have to spend $17 million, but it would be worth it for the club to extend past its price range to sign him.
The Twins don't have a history of signing big-name free agents and the idea of the Bonds coming to the Twin Cities is utter insanity. Ozzie Guillen tended to agree.
"I just heard a rumor that Barry Bonds is going to Minnesota," Guillen said Tuesday. "When you hear that, I don't know what people are drinking. That's the kind of rumor you are going to hear. I don't think Barry fits good with the piranhas. Barry is a shark, he's not a piranha. I don't see Barry there."
That tops the list of most ridiculous
crap
I've heard in a long time.
Posted by Sooze on 4 comments
Oh yes, we certainly do. The
Twins
announced on Friday they have signed
Josh Rabe
to a Major League contract and then outrighted him to AAA Rochester.
After spending the majority of last season with the
Rochester Red Wings
, Rabe played 24 games for the Twins, hitting .256 (14 for 49) with 3 home runs and 7 RBIs. In 93 games down on the farm, the outfielder batted .299, hitting 6 homers and driving in 47 runs.
This move leaves two empty spots on the 40-man roster. To be continued...
Posted by Sooze on 3 comments
Hall of Famer
Harmon Killebrew
earned entry to the in Boise, Idaho, Thursday night. The HHOF annually inducts individuals who are world-class in athletic ability, role models in their community and have a strong record of humanitarian efforts. Over 30 sports-humanitarians have been enshrined since 1994, including tennis great , MLB pioneer , NFL coaching legend
Tom Landry
, incredible golfer
Chi-Chi Rodriguez
, soccer great
Edson Arantes do Nascimento (Pelé)
, and the late, great .
Killebrew is one of three athletes that were enshrined as part of the 2006 class, recognized along with Pro Football Hall of Famer and former Oklahoma congressman
Steve Largent
and former NBA player
Steve Smith
.
"It's certainly something that you never think about when you're doing these things. I guess when I look back on some of the other things that have happened, I didn't expect them either. You just do what you do and [these honors] happen. It takes a lot of people involved to do something like this, and I have an awful lot of people to thank for this particular honor." - Harmon Killebrew
An amazing athlete on the field, Killebrew was inducted into the Baseball Hall of Fame in 1984. During his 22-year career with the
Washington Senators
, the
Minnesota Twins
and the
Kansas City Royals
, Killebrew became known as one of the best power hitters to ever play the game of baseball. Killer was named the 1969 American League Most Valuable Player, earned 13 AL All-Star honors and was a six-time AL home run leader - currently eighth on the all-time list with 573 bombs.
Harmon's list of charity work is long and ongoing. A commitment to help fund Leukemia research through the
Danny Thompson Memorial Golf Tournament
, work as a spokesperson for the , and the establishment of the
Harmon Killebrew Foundation
- which is committed to aiding research for pain relief and care management for the terminally ill - are just a few of his philanthropic endeavors.
The latest effort by Killebrew's Foundation is to help the
Healing Hands for Haiti
, a non-profit organization dedicated to bringing rehabilitation medicine to Haiti. Killebrew has also worked with the Twins Community Fund and helped raise money in Minnesota to build Miracle Fields for handicapped youth.
If even a small percent of the earth's population would do such wonderfully selfless things as Mr. Killebrew does on a day-to-day basis, the world would be a much better place.
Posted by Sooze on 0 comments