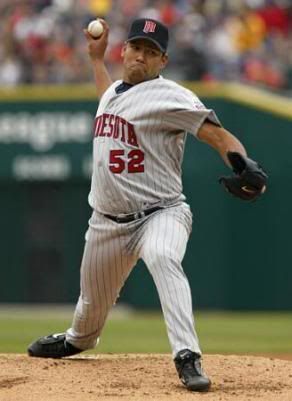 That's right. You heard me. The
Minnesota Twins
seem to have found some sort of glimmer of hope in
Carlos Silva's
right arm. They announced Tuesday that they've picked up the $4.35 million option for him, instead of buying out his contract for 100,000 clams.
At least now, the club has more than one pitcher who's stood on a Major League mound for longer than a year. Silva, along with
Johan Santana
are the only returning members of the rotation who spent the entire 2006 season in the Majors.
Brad Radke
*single tear* is expected to announce his retirement within the next week.
Twins' GM Terry Ryan had this to say...
"Our pitching staff is an area of concern for me. We believe that we are going to get Carlos back on track. He's still young. He's had some good years for us. Unfortunately, this year for Silva didn't go as well as anybody wanted, but we're going to try to get him back to the point where we can count on him every five days as one of our starting pitchers."
This past season, Carlos went 11-15 with a 5.94 ERA in 31 starts, giving up the most home runs in the league (38). He had a brief stint in the bullpen in May after a string of poor starts, where he just couldn't seem to locate his slider or find the strikezone. After fiddling with a new change-up, he returned to his go-to slider, but couldn't keep it low enough to initiate ground outs.
Will the Twins attempt to pick up another veteran arm in the off-season? Who will get the nod when the 2007 season rolls around?
Bonser
,
Garza
,
Perkins
? How about
Guerrier
? Will
Liriano
need surgery and sit the entire year, or will he be ready to roll at Spring Training? The suspense is killing me, as well.